Paul Cipparone Attorney
Attorney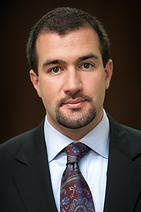 Paul was born in Toronto, Canada and moved to Seminole County in 1991. Paul is a graduate of Seminole High School in Sanford, Florida, and he has strong ties within the Seminole County community.
Law school
Paul graduated from the University of Central Florida Rosen School of Hospitality Management with a degree in Restaurant and Food Service Management. He went on to law school at the University of Florida Levin College of Law where he graduated with honors and was regularly on the dean's list. Paul also received a book award in Sports Law, recognizing him as the highest ranked student in the class.
Law experience
After graduating law school, Paul worked for an established law firm in Clermont, Florida, where he handled his own caseload and counseled his clients on a broad range of legal issues. Paul focuses his practice in the areas of corporate law, business and commercial litigation, estate planning, probate and trust administration, probate and trust litigation, and real estate law. In 2013, 2014, 2015, 2016 and 2017, Paul was recognized as a Rising Star by Florida Super Lawyers in the areas of estate planning and probate.
Paul is an active member of the Florida Bar, served as chairman of the Foundation for Seminole County Public Schools during the year 2015-2016 and currently serves a board member, and is a member of the Rotary Club of Lake Mary, Florida. Paul also is a committee member for the Rescue Run, an event which raises proceeds for the Rescue Outreach Mission.
Paul has a business background and understands that the decisions made by a business have implications that directly, and indirectly, affect the bottom line. Paul approaches his cases with this in mind, looking to resolve disputes through negotiation and using litigation as a last resort after negotiation has failed. Outside the office, Paul enjoys spending time with his wife and daughters, golf, outdoor sports and is an avid Gator fan.
Florida Bar
Contact US


Paul Cipparone Attorney