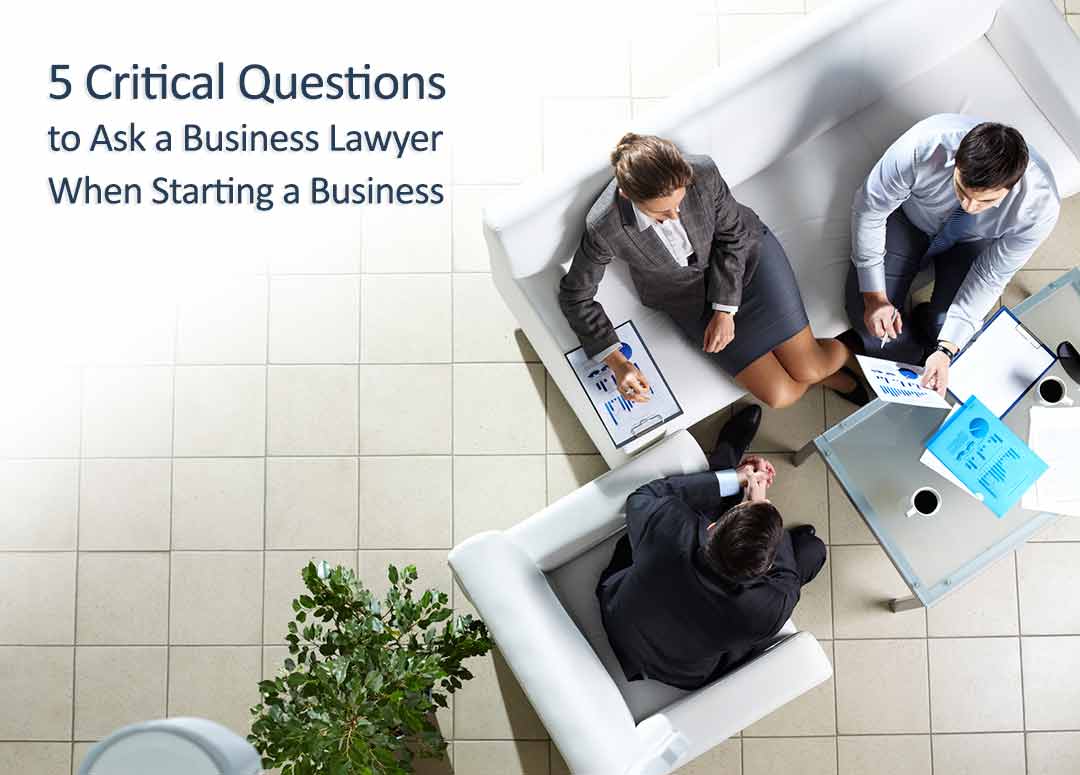 Published on January 2, 2022
There are several legal concerns that come with starting a business. As you get your company up and running, one of the first things you should do is consult with a professional business attorney on these matters. Here are some of the most critical questions you should be asking your business attorney to make sure your organization starts on the right track.
What Business Structure Should I Use?
When starting a small business, you must choose how your company will be organized and structured. There are a few business structures to choose from, and each has its own set of pros and cons.
The most common business structures are:
Sole proprietorship
Limited liability company (LLC)
Corporation
It's critical to carefully think your business structure through and make an informed decision because your choice will have an impact on how your business is run, managed, and taxed. Consulting on this issue with a lawyer is often the best course of action as they can help you understand your options and choose the best approach for your circumstances and needs.
How Do I Choose a Business Name?
Choosing a name is another step in getting your business up and running. Each state has its own procedures for legally selecting a business name. These procedures vary from state to state, and can be quite complicated.
You must also be sure that your name does not infringe on any pre-existing copyrights or trademarks. A business attorney can assist you in ensuring that your selected name is available and guide you through the necessary paperwork.
What Contracts Do I Need?
Contracts are an important component of any business, whether it's a small firm or a huge organization. Contracts safeguard your company by describing the rights and obligations of the parties to the agreement. A well-worded employee or vendor contract can help avoid any disputes, guarantee that you are paid for your services, and provide a remedy if one party fails to fulfill its obligations.
Contracts can be used for all sorts of agreements, including routine transactions, to safeguard sensitive information, to define employment relationships, and so on. Always have a lawyer prepare or review major agreements such as these.
How Do I Establish Ownership Responsibilities?
If you plan on operating a business with multiple stakeholders or owners, it's essential to have clear agreements in place on what each person is expected to do and how much they're responsible for. When you're just getting started, having signed agreements in place is essential so that everyone understands what is required of them and what they are entitled to in any given circumstance. This might assist you in avoiding contentious debates and future legal issues.
How Can I Make Sure My Business Is Compliant?
The federal government and each state have various record-keeping, safety, and other business regulations. In order for your company to comply with all of those laws and rules, it must first understand what is required of it. Your lawyer can walk you through some of these and ensure that you understand exactly what records must be kept and for how long.
You should speak with an experienced business attorney if you are planning on starting a business. Cipparone & Cipparone, P.A. offers free consultations to entrepreneurs who need a legal plan to get started.
---
**This blog is for general informational purposes only. Cipparone & Cipparone, P.A. does not distribute legal advice through this blog. As such, this blog does not constitute legal or other professional advice, and no attorney-client relationship is created between the reader and Cipparone & Cipparone, P.A.

Tags: Business Law, start-up


Categorized in: Business Law